A FREE Webinar from One of the World's Favorite Breathwork Experts, Niraj Naik
Come Out Stronger, Happier, Healthier & More Inspired In These Uncertain Times With The Most Powerful Trio In Self-Healing, Rejuvenation & Spiritual Growth: Breathwork, Music & Visualization
Join Over 10,000 People On This Free Webinar To Learn & Experience How This Revolutionary Breathwork Technique Can Supercharge Your Immunity, Self-Healing, Happiness, Manifestations & All Aspects Of Your Life

Enjoy this incredible experience with thousands of like-minded people

Block out 40 mins in a distraction-free zone to dive deep into SOMA

Use headphones or earbuds for an immersive sound experience.

Learn & Experience First-Hand The Magical Life-Changing Benefits Of Combining Breathwork, Music & Visualization To Supercharge Your Body, Mind & Spirit To A Whole New Level
Breathwork, uplifting music and visualization are powerful and beneficial modalities on their own, but when you start blending and combining them in your daily meditation or spiritual practice, magic starts happening.
Here are just some of the life-changing benefits and results you can expect when you start practicing what you'll learn on this webinar:
Boost your immunity against infections, health challenges & negative energy that drains your energy.
Heal, rejuvenate & recover much faster in times of health challenges.
Start feeling really good about yourself, your present & your future.
Start looking better, younger, healthier than even before.
Start enjoying & living your life with energy every day.
Have more youthful energy for yourself, family, work, adventures & everything else that matters.
Elevate your intuition & ability to solve various life challenges in new, creative ways.
Improve your memory, attention & brain's cognitive abilities.
Become more self-confident & courageous.
Improve your overall performance & focus at workspace.
Embody a higher sense of self-worth, self-love & self-acceptance.
Experience a supreme sense of unity, oneness & belonging.

What You'll Learn & Experience in This Masterclass
Learn all essentials and benefits of Breathwork: What it is, how and why it works, how it affects your body, mind and spirit, and more.
Discover why and how SOMA Breath is the world's most transformative breathwork technique available today, and how to bring it to your daily life starting today.
Get insights into your own health: Take a short health self-assessment to better understand your overall health and wellness in five key areas.
Practice SOMA Breath during a 20-minute guided session: Gain a first-hand experience in this breathing technique's life-expanding nature during a guided session.
Learn how to connect with your passion through breathwork and transform the way you live your life (never underestimate the power of your passion)
Discover how simple breathwork techniques that can exponentially elevate your energetic vibrations and recalibrate your entire nervous system in a matter of seconds (these will make you ecstatic)
Tales of healing, rejuvenation and transformation. What happens when you start experiencing guided breathwork sessions? See a few real-life stories from real people. You'll be inspired, and understand that higher levels of health, wellness and energy is only a few steps away.
And so much more…
Meet Your Teacher Niraj Naik
Niraj Naik, the Renegade Pharmacist, is a certified UK pharmacist turned holistic wellness, brain-training, and breathwork expert, and one of the world's most sought-after spiritual ceremony facilitators.
His journey started in the midst of a "burnout" in his corporate career, when he found himself in a painful chronic illness that had him bed-ridden for a year. Healing himself a year later using Breathwork practices and dietary adjustments, he felt motivated to share his knowledge with others.
Today, Niraj runs a global breathwork community and trains hundreds of breathwork experts through his SOMA breath framework – which is also taught at many wellness centers across the world with training centers in Europe, USA and Asia.
And in this webinar Niraj takes you through a magical guided experience of his #1 breathwork technique to reclaim your healthy self.
Check Out What People Are Saying About Their SOMA Experience
"I felt so alive in my body.. The grief transformed into this amazing joy..."
"I had a sense of connection with spirit and feel it can be even deeper with more practice"

"I was filled with an overwhelming sense of peace, connection & spirit..."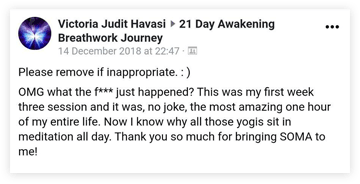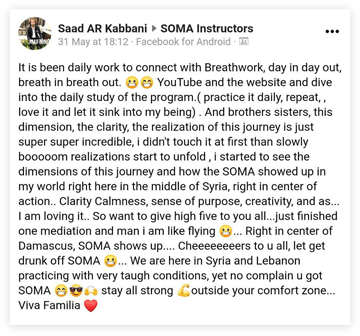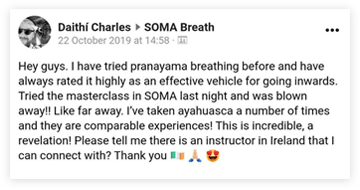 Register Now and Watch This 40 Minute Masterclass for Free
*Results cannot be guaranteed, moreover, results from individual testimonials are for reference only and your own personal experience may differ to those shown on this site.
SOMA Breath® is an approach to breathwork and breath therapy that includes certain techniques that can be used to resolve significant past events believed to be interfering with a person's present mental and emotional wellness. Only people with sound mental health who are confident that a review of past events will not adversely impact their emotional or mental health should participate. We request that you do not participate in breath therapy of any kind if you or your treating practitioners have any past or existing concerns about your mental health.
SOMA Breath® is not intended to be a substitute for professional medical advice and should not be relied on as health or personal advice. Always seek the guidance of your doctor or other qualified health professional with any questions you may have regarding your health or a medical condition.