What Our Students & Instructors Are Saying About SOMA Breath
"Its been a major part of my evolution and my salvation… I started to attract a different reality"
"I feel clear about my life & purpose"
"I had a sense of connection with spirit and feel it can be even deeper with more practice"
"I felt with SOMA, this is it!"
"I went through every sensation there is"
"It was like waves going through my body. It gave a lot of confidence."
"It's so beautiful to feel so open and let go of so much"
"I've tried different meditations but this one was really deep"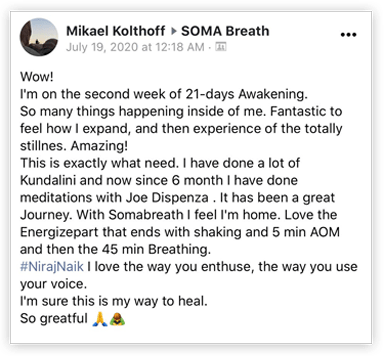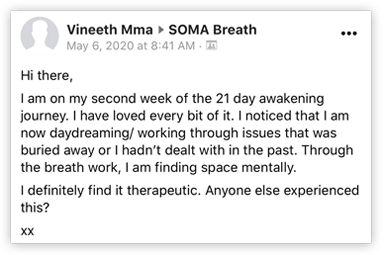 "Its a level I never reached before"
"It really can take you to altered states of consciousness.. I would do it all day"
"I felt so alive in my body.. The grief transformed into this amazing joy…"
"I was filled with an overwhelming sense of peace, connection & spirit…"
"Can't believe how simple and powerful it is"
"I now understand the power we all have"
"It felt like I was on magic mushrooms"
"50% reduction in arthritis symptoms"
"My spirit felt alive in just a few minutes"
"It was mystical, magical... bigger than myself"
"It was a feeling of total bliss"
"It helped me to dramatically improve my health after the doctors said it was not possible"
"I was recognising my eyesight was getting better"
"It was such a big release!"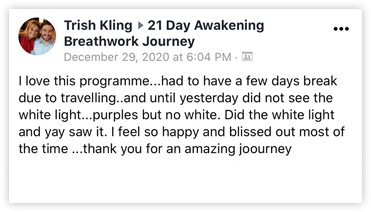 " This teacher training has been super empowering and being able to do it together has made it even better."
"Since becoming an instructor I've been able to teach at festivals, retreats, online workshops and even coaching 1 on 1 sessions."
"I've been teaching this for 2 months and already my students have had amazing spiritual breakthroughs!"
"I see this as a catalyst to other things I can offer"
" I am getting so much tools, it's just incredible!"
"It completely changed my life!"
"I get to share this amazing wisdom with others"
"I absolutely love being a SOMA Breath instructor"
"SOMA breath has had a huge impact on my life!"
"I was not able to walk properly, then I found SOMA"
"I found what I have been wanting for a long time."
"The breathwork was mind-blowing"
"I came as one person and I am leaving as somebody else"
"The most profound practice of my life"
"It's the people that you connect that makes the experience"
"It gave me so much more than just knowledge"
"It was really powerful! …I would recommend it to everybody"
"I never expected to have so much fun… it's been phenomenal!"
"It opened up a whole new dimension inside myself"
Do You Want To Become A SOMA Breath Instructor And Start Seeing These Results With Your Clients?

Copyright 2023 SOMA Breath®